Trustee Election: Gives individuals an opportunity to vote for a candidate running in their district or at-large.
School Bond Election: Gives individuals an opportunity to vote for bonds.
---
Teach the Vote
Teach the Vote's mission is that public schools touch every Texan's life. Our children attend these schools. Our tax dollars fund them. And our future depends on their success.
It's time for every Texan to understand what educators have long known: Our choices at the polls become realities in the classroom. It's time for educators to Teach the Vote.
Click the Teach the Vote Logo
Am I Registered to Vote?
Who Represents Me? Who Represents Me provides information about current districts and members of the Texas Senate, Texas House of Representatives, the Texas delegation to the U.S. Senate and House of Representatives, and the State Board of Education.

For more Texas Voting Information visit VoteTexas!!!

---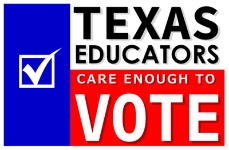 If 100% of educators vote, we can change the outcome of elections.

Let's move Texas out of the last place in voter turnout!
For more information regarding Texas Educators and voting visit: www.TexasEducatorsVote.com
---
Notice to High School Students or Employees – Registering to Vote
Voter Registration Form (English)
Voter Registration Form (Spanish)

---
Application for a Ballot by Mail
To be eligible to vote early by mail in Texas, you must:
be 65 years or older;

be disabled;

be out of the county on election day and during the period of early voting by personal appearance; or

be confined in jail, but otherwise eligible.
Download an Application for Ballot By Mail (English) (Spanish)
Request Application for Ballot By Mail to be mailed to you. Call (254) 729-4100
Submit your Application for Ballot By Mail via:
Mail: P. O. Box 559, Groesbeck, TX 76642
Fax: (254) 729-2193
Email: t.battr@groesbeckisd.net or t.rand@groesbeckisd.net.
Note: If you send by email, you should receive a reply that your email was received. If you do not receive a reply, please call (254) 729-4100.
---
ID Required for Texas Voters
You must present one of the following forms of photo ID when voting in person:*
Texas driver license issued by the Texas Department of Public Safety (DPS)

Texas Election Identification Certificate issued by DPS

Texas personal identification card issued by DPS

Texas license to carry a handgun issued by DPS

United States military identification card containing your photograph

United States citizenship certificate containing your photograph

United States passport
Do not possess and cannot reasonably obtain one of the IDs? Fill out a declaration at the polls explaining why and bring one of the following supporting documents:
Valid voter registration certificate

Certified birth certificate (must be an original)

Copy of or original current utility bill

Copy of or original bank statement

Copy of or original government check

Copy of or original paycheck

Copy of or original government document with your name and an address (original required if it contains a photograph)
*With the exception of the U.S. citizenship certificate, the identification must be current or have expired no more than 4 years before being presented for voter qualification at the polling place. For more information, visit the Secretary of State website at www.sos.state.tx.us
Exemptions: Voters with a disability may apply with the county voter registrar for a permanent exemption showing ID at the polls. Voters with a religious objection to being photographed or voters who do not have an ID due to certain natural disasters may apply for a temporary exemption to showing ID at the polls. Please contact your voter registrar for more details.
---
NOTICE OF VOTING ORDER PRIORITY
Pursuant to Section 63.0013, Election Code:
An election officer may give voting order priority to individuals with a mobility problem that substantially impairs the person's ability to move around.
A person assisting an individual with a mobility problem may also, at the individual's request, be given voting order priority.

Disabilities and conditions that may qualify you for voting order priority include paralysis, lung disease, the use of portable oxygen, cardiac deficiency, a severe limitation in the ability to walk due to arthritic, neurological, or orthopedic condition, wheelchair confinement, arthritis, foot disorder, the inability to walk 200 feet without stopping to rest, or use of a brace, cane, crutch, or other assistive device.

Voters who wish to be given voting order priority, and be accepted for voting before others in line to vote at that polling place, may indicate this to any election officer serving at the polling place. The presiding election judge will determine whether the voter and the voter's assistant, if applicable, will be brought forward to the front of the line.
AVISO de PRIORIDAD de ORDEN de VOTACIÓN
De conformidad con la Sección 63.0013, Código Electoral:
Un oficial de elecciones puede dar prioridad de orden de votación a individuos con un problema de movilidad que dificulta sustancialmente la capacidad de la persona para moverse.
Una persona que asiste a un individuo con un problema de movilidad también puede, a petición del individuo, ser dado prioridad en el orden de votación.

Discapacidades y condiciones que pueden calificarle para prioridad de orden de votación incluyen parálisis, enfermedad pulmonary, el uso de oxigeno portátil, deficiencia cardiaca, limitación severa en la habilidad para caminar debido a condiciones artríticas, neurológicas u ortopédicas, confinamiento de silla de ruedas, artritis, trastorno de pie, la incapacidad para caminar 200 pies sin parar para descansar, o el uso de una abrazadera, bastón, muleta u otro dispositivo de ayuda.

Votantes que desean recibir prioridad de orden de votación, y ser aceptados para votar antes que otros en la fila para votar en el lugar de votación, pueden indicar esto a cualquier funcionario de elecciones que prestan servicios en el lugar de votación. El juez presidente de elecciones determinará si el votante y el asistente del votante, si es aplicable, serán adelantado al frente de la línea.
---
VOTER INFORMATION
You Have:
(1) The right to a ballot with written instructions on how to cast the ballot.
(2) The right to cast your vote in secret and free from intimidation.
(3) The right to receive up to two more ballots if a mistake is made while marking the ballot.
(4) The right to ask the polling place official for instructions on how to cast the ballot, but not for suggestions on how to vote.
(5) The right to bring an interpreter to assist you as you qualify to vote if you do not understand the English language.
(6) The right to assistance while casting your ballot if you cannot write, see the ballot, or understand the language in which it is written.
(7) The right to report a possible voting rights abuse to the Secretary of State or to your local election official.
(8) The right to cast a provisional ballot if your name does not appear on the list of registered voters or you do not have proper identification; and the right to present such identification to the county voter registrar's office within six (6) calendar days after election day.
(9) The right to vote once at any early voting location during the early voting period within the territory conducting the election.
(10) The right to file an administrative complaint with the Secretary of State concerning violations of federal and state voting procedures.
You may not:
(1) Vote in an election in which you know that you are not eligible to vote.
(2) Vote twice in an election.
(3) Provide assistance to a voter who is not eligible to receive assistance.
(4) Suggest how another person should vote by word, sign or gesture while in the polling place.
(5) Intimidate, threaten, or coerce any person from voting or attempting to vote.
(6) Electioneer or loiter within 100 feet of the entrance to the polling place or inside the polling place.
(7) Buy or sell your ballot.
(8) Deposit a ballot in the ballot box that was not given to you by an election official.
---
The Secretary of State's Office may be contacted toll-free at 1-800-252-VOTE (8683), via e-mail at elections@sos.texas.gov, and by regular mail at Elections Division, P.O. Box 12060, Austin, Texas 78711 to report election violations.
---
---
Se requiere identificación para votar en Texas
Debe presentar una de las siguientes formas de identificación con foto al memento de votar en persona:*
Licencia de Conducir de Texas expedida por el Departamento de Seguridad Pública ("DPS", según sus siglas en inglés)

Certificado de Identificación Electoral de Texas expedido por el DPS

Tarjeta de Identificación Personal de Texas expedida por el DPS

Licencia de Texas para Portar Armas de Fuego expedida por el DPS

Cédula de

Identificación

Militar de Los Estados Unidos con fotografía

Certificado de Ciudadanía de Los Estado Unidos con fotografía

Pasaporte de Los Estados Unidos.
No posee y no puede obtener razonablemente una de estas identificaciones? Llene una declaración en su sitio de votación dando sus razones y presente uno de los siguientes documentos:
Certificado de registro electoral valido
Acta de nacimiento certificada original
Factura reciente de servicios públicos original o copia
Estado de cuenta bancaria original o copia
Cheque del gobierno original o copia
Cheque de pago original o copia
Documento del gobierno con su nombre y dirección original o copia (se requiere documento original si el documento continene una foto)
*Con la excepción del certificado de ciudadanía estadounidense, la identificación deberá estar vigente; si no la está, no debe estar vencida más de 4 anos antes de ser presentarla en el sitio de votación para poder ejercer su voto. Para más información, visite el sitio web de la Secretaria de estado en www.sos.state.tx.us
Excepciones: Electores con alguna discapacidad pueden solicitar una excepción permanente por medio de la oficina de registro electoral de su condado para no presentar una identificatión en la casilla de votación. Electores con una objeción religiosa a ser fotografiadoes o votantes que no cuentan con una el sitio electroal. por favor comuniquese con su oficina de registro electroal para mas detalles.
---
INFORMACIÓN ELECTORAL
Usted tiene:
(1) El derecho a recibir una boleta electoral con instrucciones escritas sobre cómo votar.
(2) El derecho a emitir el voto secreto y sin intimidación.
(3) El derecho a recibir hasta dos boletas adicionales si ha marcado erróneamente la boleta.
(4) El derecho a pedirle al funcionario del centro electoral instrucciones sobre cómo emitir el voto, pero no para obtener sugerencias sobre cómo votar.
(5) El derecho de traer un(una) intérprete para que lo(la) ayude mientras se verifican sus datos e identificación, si no entiende inglés.
(6) El derecho a la asistencia, mientras que emite su voto, si usted no puede escribir, ver la boleta, o entender el idioma en que está escrito.
(7) El derecho a reportar posibles abusos de los derechos de votante al Secretario de Estado o al funcionario electoral de su área.
(8) El derecho a emitir una boleta provisional si su nombre no aparece en la lista de votantes inscritos o si usted no tiene la identificación apropiada, y el derecho a presentar dicha identificación a la oficina del condado de registro de votantes dentro de los seis (6) días del día de elecciones.
(9) El derecho a votar una vez en cualquier lugar de votación anticipada durante el período de votación temprana dentro del territorio realizando las elecciones.
(10) El derecho a entablar una demanda administrativa ante el Secretario de Estado con respecto a violaciones de los procedimientos electorales estatales y federales.
Usted no puede:
(1) Votar en una elección si usted sabe que no cumple con los requisitos para votar.
(2) Votar dos veces en la misma elección.
(3) Prestarle ayuda a un votante que no cumple con los requisitos para recibir asistencia.
(4) Sugerir verbalmente, por medio de señas o de gestos, cómo debe votar una persona que se encuentra en el centro electoral.
(5) Intimidar, amenazar o coaccionar a una persona para que no vote o no trate de votar.
(6) Hacer campaña o propaganda electoral o merodear a 100 pies o menos de la entrada al centro electoral o dentro del mismo.
(7) Comprar o vender su boleta.
(8) Depositar en la urna una boleta que no le haya sido entregada por un funcionario electoral.
---
Puede ponerse en contacto con la Oficina del Secretario de Estado, gratis, por teléfono, al 1-800-252-VOTE (8683), por correo electrónico (e-mail) en elections@sos.state.gov , y por correo postal dirigido a: Elections Division, P.O. Box 12060, Austin, TX 78711 con respecto a violaciones de la elección.
---