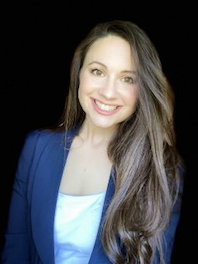 I graduated in 2014 from Texas A&M University-Commerce with a Bachelor's degree in Interdisciplinary Studies. I earned my Master's Degree in 2019 in Reading Education. I am certified for K-6 in all subjects and K-12 in English/Language Arts. In my first year in education, I taught 4th grade ELA, and the upcoming school year of 2022-2023 will be my second year teaching English II.
After graduating, I spent a few years at home with my children where I homeschooled and tutored part-time. I am thrilled to be back in the classroom, sharing my love for all things English with my students.
| Time | Class | Period |
| --- | --- | --- |
| 7:45AM - 8:35AM | English II | 1st |
| 8:39AM-9:29AM | CONFERENCE | 2nd |
| 9:33AM-10:25AM | Honors English II | 3rd |
| 10:29AM-11:19AM | Reading | 4th |
| 11:19AM-11:49PM | Lunch | |
| 11:53AM-12:43PM | English II | 5th |
| 12:47PM-1:37PM | Honors English II | 6th |
| 1:41PM-2:31PM | English II | 7th |
| 2:35PM-3:25PM | English II | 8th |
Monday - Thursday 3:25 - 4:00
Please make plans with me ahead of time so I can be sure of availability.
Policies, Procedures, and Syllabus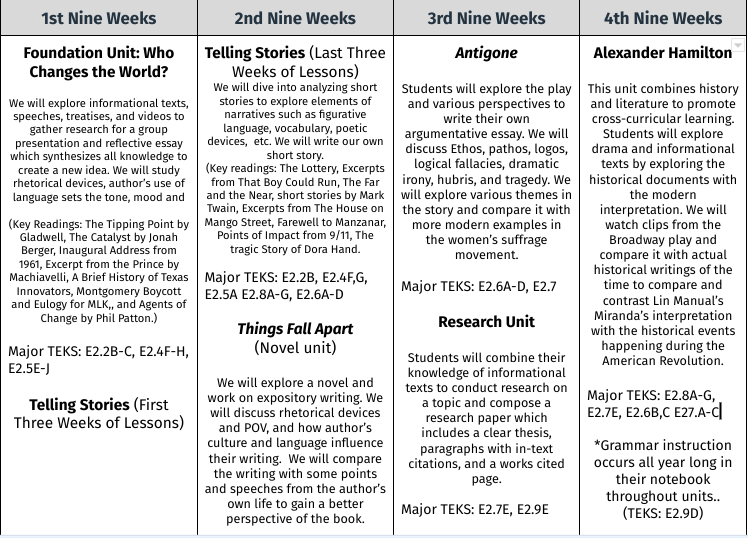 English II introduces a variety of literary forms and continues skill development in language, reading, and composition as well as technology and oral presentations. Students will study the short story, informative texts, novel, drama, grammar, composition, and vocabulary skills.
The English language arts and reading Texas Essential Knowledge and Skills (TEKS) embody the interconnected nature of listening, speaking, reading, writing, and thinking through the seven integrated strands of developing and sustaining foundational language skills; comprehension; response; multiple genres; author's purpose and craft; composition; and inquiry and research. The strands focus on academic oracy (proficiency in oral expression and comprehension), authentic reading, and reflective writing to ensure a literate Texas. The strands are integrated and progressive with students continuing to develop knowledge and skills with increased complexity and nuance in order to think critically and adapt to the ever-evolving nature of language and literacy.
The seven strands of the essential knowledge and skills for English language arts and reading are intended to be integrated for instructional purposes and are recursive in nature. Strands include the four domains of language (listening, speaking, reading, and writing) and their application in order to accelerate the acquisition of language skills so that students develop high levels of social and academic language proficiency. Students will engage in academic conversations, write, read, and be read to on a daily basis with opportunities for cross-curricular content and student choice.